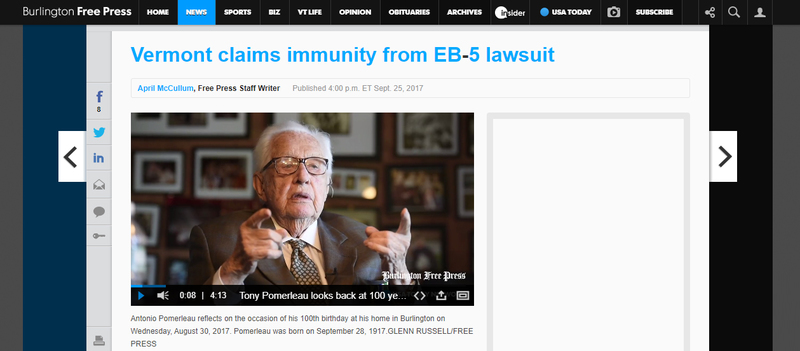 Antonio Pomerleau reflects on the occasion of his 100th birthday at his home in Burlington on Wednesday, August 30, 2017. Pomerleau was born on September 28, 1917.
Vermont plans to repudiate a lawsuit over its handling of the troubled EB-5 foreign investment program by arguing that the state is immune from liability.
Megan Shafritz, chief of the Civil Litigation Division of the Vermont Attorney General's Office, gave a preview of the arguments Monday at Vermont Superior Court in Hyde Park.
The federal EB-5 visa program offers a path to permanent U.S. residency for foreign nationals who contribute at least $500,000 to projects that create jobs in rural or economically depressed regions.
Source: http://www.burlingtonfreepress.com/story/news/crime/2017/09/25/vermont-claims-immunity-eb-5-lawsuit/694766001/
Read more by clicking below image