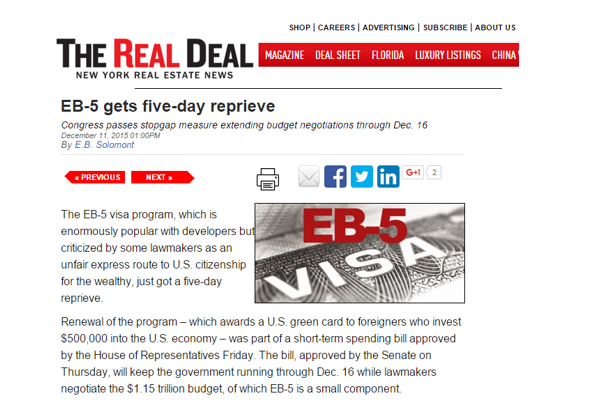 The EB-5 visa program, which is enormously popular with developers but criticized by some lawmakers as an unfair express route to U.S. citizenship for the wealthy, just got a five-day reprieve.
Renewal of the program – which awards a U.S. green card to foreigners who invest $500,000 into the U.S. economy – was part of a short-term spending bill approved by the House of Representatives Friday. The bill, approved by the Senate on Thursday, will keep the government running through Dec. 16 while lawmakers negotiate the $1.15 trillion budget, of which EB-5 is a small component.
The EB-5 program, which offers 10,000 U.S. visas annually and has been dominated by Chinese investors in recent years, was initially up for renewal in September, when lawmakers passed a stopgap measure to keep the government operating through Dec. 11.
Please click on the logo to read more